Blue Knights® Australia IV
Welcome to BKAus IV
Australia IV is the fourth Chapter of the Blue Knights®
Law Enforcement Motor Cycle Club to be chartered in Australia.
The founding members transferred from BKAus I
to form a club in the Peel District of Western Australia.
Membership inquiries to
The Secretary BKAus IV
PO Box 1234
ROCKINGHAM
Western Australia 6968
Email: Secretary@bkaus4.org
Media Inquiries to
Director Media
Email: Media@bkaus4.org
BKAus IV Official Chapter Patch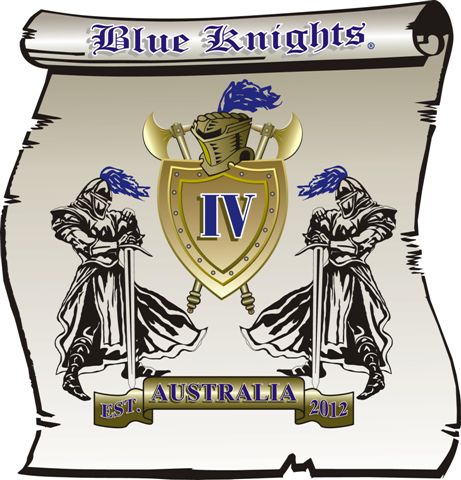 Play the song "Ride with Pride" by Crystal Swygert
The Blue Knights® International was founded in 1974 in the USA. The Blue Knights® is the largest law enforcement motorcycle club in the world with over 20,000 members.
History in Australia dates back to 1978. We are the oldest Law Enforcement Motorcycle Club in Australia. We are referred to as Blue Knights® Australia (BKAUS). Towards the end of 1993 the original Australia I which was the only Australian Chapter, disbanded with some members maintaining their links as members of Washington I Chapter. Then in December 2004, a "National Get Together" was organised which took place in Broken Hill, New South Wales and interested Law Enforcement Officers from around Australia attended and a discussion took place that lead to the idea of reforming the Blue Knights® in Australia.
Then on May 28, 2005 Blue Knights® Australia I Chapter was re charted by 'Robbo' as President (who was a member back in the late 1980's). Initially, the Australia I chapter was managed from Sydney with Directors in all States and Territories. This group structure allowed for state representation and autonomy of rides with National administration being conducted centrally. After a new Board of Directors was elected in 2008, the National Executive moved to Perth, Western Australia. From there, another three Australian Chapters grew.
Australian Chapters are now: Australia I and Australia IV catering for Western Australia; Australia II catering for NSW, ACT, VIC, SA and TAS; and Australia III catering for QLD and the NT. Australia-wide, the Blue Knights® have about 240 members. Applications can be made to join any one of the Chapters, regardless of where the applicant resides, however a person can only be a member of one Chapter.

More info is available on the "History of Blue Knights® Australia" on the BKA National website under the "HISTORY" tab found through this link http://www.blueknightsaustralia.org/history.html.